">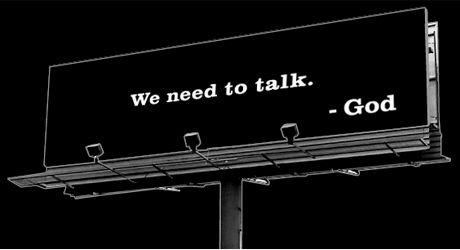 You know that I've been watching you as you go about your daily business. I hear your morning prayers asking me for help, and I hear your evening prayers thanking me for seeing you through another day, and giving your burdens over to me. I've been there the whole time in between, answering your prayers.
I knew that you needed companionship. I gave you a best friend for a season. Even though you have grown apart I used the relationship and the things you shared to influence a major decision on your job today.
You pray for my blessing on your meals, and pray that I keep you healthy. It's no coincidence that you haven't used any sick days this year.
Each morning you thank me for the beautiful day, but I see you spend your time inside, hardly looking at my Creativity du jour. The sky, the trees, the air temperature, the cloud formations -- I did this for you.
I hear your prayers for Aunt Fannie, asking me to heal her. I really do hear. But, child, my will for Aunt Fannie is to heal her hardened heart, more so than healing her body. Look closely -- you will see a change in her spirit.
Last night you gave me your burden of youth who compromise because parents don't seem to be involved. This morning you asked me to use you for my purposes today, and I answered you. Remember the woman who cut in front of you at the grocery store, and you held your tongue? I allowed her to do that. I chose your line to cut in front of. Why? Why would I do that to you, you ask? Because the moment wasn't about you. It wasn't even about her. It was about her son. You see, if she waited for you to go ahead of her, she would have arrived home from work too late to prevent her son from compromising his values and having sex with his girlfriend -- and becoming teenage father.
I answer all of your prayers. You just don't see it because you are looking for different answers. In some cases you even lose interest in your prayer because you've gone on to other desires to ask me for. I'm not slow to answer. I answer according to my timeline, not yours.
Will you do something today? Right now? Take a few minutes to celebrate. It doesn't have to be on large scale like a birthday party or anything like that (although I give you birthdays too). Celebrate the many ways I answer your prayers. Smile a beaming smile. Sing a happy song of praise. Tell someone that I love them. Tell someone who is sad that I can make things OK. Take a deep breath of fresh air. Savor your food (yes, even the burnt food). Show kindness to someone. Rejoice! Be glad Take delight in what I have done for you.
I say it again, Rejoice!
I'll be rejoicing right along with you.